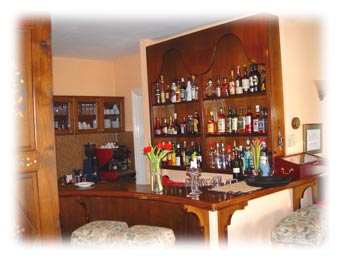 For breakfast, we have a large breakfast room, where all of our guests are invited to come to enjoy a very rich and tasty breakfast, such as eggs, bacon, sausages, bread, marmaldes and other such delights.
In our large living room area, you can relax and take a seat and unwind for the evening. We are very proud of the friendly atmosphere at "Arhontiko Despotiko", and are always on hand to assist our guests anyway we can.
Why not head to our delightful bar area for a drink and chat before heading out for the evening. During the winter, with our fireplace lit, we can offer an escape from the bitter cold weather outside. During the summer, take a seat in our garden area and catch a few rays of sun.